About Us
Objective
The aim of the Consorcio Centro de Investigación Biomédica en Red, 
CIBER
, a public research consortium set up at the initiative of the
Instituto de Salud Carlos III (ISCIII)
is to further excellence research in Biomedicine and Health Sciences done in the National Health System and in the Science and Technology System. To this end efforts and interdisciplinary and multi-institutional research are combined with a preferential dedication of financial resources around knowledge networks formed by centres and research groups reporting to different administrations and public and private institutions.
Origins
Its origins date back to 2006, when seven consortiums were set up  (
CIBERBBN
,  
CIBEREHD
,
CIBERBNED
,  
CIBERER
,  
CIBERES
,
CIBERESP
and
CIBEROBN
), most of which originated from thematic networks previously running. In 2007 the process culminated with the creation of
CIBERSAM
and
CIBERDEM.
The integration of  CIBERBBN, CIBEREHD, CIBERER, CIBERES, CIBERESP, CIBEROBN, CIBERDEM and CIBERSAM in a single Consortium known as
Consorcio Centro de Investigación Biomédica en Red, M.P, CIBER
, was approved in 2013, taking effect as of 1st January 2014, in the framework of the Plan for restructuring and rationalising the Public sector.
On January 1, 2017, through the call for the Strategic Action in Health 2013-2016, new thematic areas and new groups were incorporated into the CIBER Consortium. The new thematic areas created by the following: Fragility and Healthy Aging (CIBERFES), Cardiovascular Diseases (CIBERCV) and Cancer (CIBERONC).
Finally, in January 2022, the process of integrating new areas was completed with the creation of the CIBER for Infectious Diseases (CIBERINFEC) and the incorporation of the CIBER for Neurodegenerative Diseases (CIBERNED).
Current situation
At the present time the CIBER has a staff more than 900 persons and almost 6000 attached researchers, integrated in 400 research groups, spread out at different centres, linked to 104 institutions in the consortium, belonging to different Administrations, Institutions and Autonomous Communities, in the public and private sectors.
The CIBER's scientific programme is arranged around the following thematic research areas:
Bioengineering, Biomaterials and Nanomedicine (CIBER-BBN)

Cardiovascular Diseases (CIBERCV

)
Diabetes and Associated Metabolic Diseases (CIBERDEM)
Epidemiology and Public Health (CIBERESP)

Fragility and Healthy Aging (CIBERFES)

Liver and Digestive Diseases (CIBEREHD)

Rare Diseases (CIBERER)
Respiratory Diseases (CIBERES)
Physiopathology of Obesity and Nutrition  (CIBEROBN)
Oncology (CIBERONC)
Mental Health (CIBERSAM)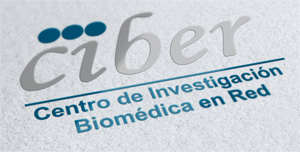 At the CIBER we carry out network research, promoting cooperation between the groups in the consortium and encouraging synergies. This horizontal organisation model means competitive advantages can be attained, promoting the complementary aspects of measures, sharing objectives and optimising resources as a way to share costs and take advantage of economies of scale. It also helps the results to become more effective and efficient and enables a reduction in the time for transfer and applicability of the results to the SNS, to have an effect on citizens' health, increase their quality of life and social wellbeing.
We hope that this web space can act as a point of encounter for our whole community at the CIBER and at the same time I would like to ask all those interested in our research to look further into the content of this page so that you can learn more about our scientific work.