V Young Researchers Meeting CIBERONC in collaboration with CIBERER
Desde el lunes, 14 de noviembre de 2022 hasta el martes, 15 de noviembre de 2022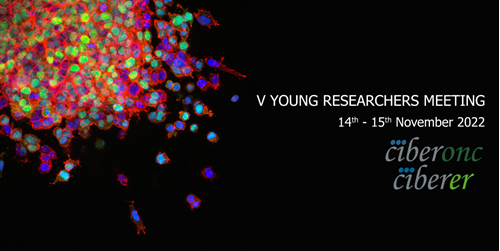 Welcome to the V Young Researchers Meeting that will take place on 14th-15th November 2022.
The objective of this meeting is to highlight and exchange innovative results in oncology and rare diseases and connect early and senior career researchers. Moreover, this event provides a good opportunity to establish scientific discussion and networking between CIBER groups.
The program includes the presentation of results related to the following areas:
Tools for molecular diagnostics.
New therapeutic approaches.
Tumour microenvironment.
Machine learning and experimental models.
Molecular bases of diseases.
Biomarkers.
In addition, there will be two round tables that will debate current important topics, including animal experimentation: research need and available alternatives; and career paths after the PhD.
The meeting is exclusive for CIBERONC and CIBERER groups and linked groups, prior registration on the "Sign Up" section.
Online registration is open now until 15th October 2022 at 12:00 p.m (midday). Abstract submission is available now until 11th September 2022 via email to info@ciberonc.es. An abstract submission form needs to be filled out. For further information on abstract submission, please refer here. Abstracts will be selected for oral presentation or poster.
This meeting will have Awards for best post-doctoral and pre-doctoral oral presentations and best poster.
We will be updating all the information concerning the event on this website, so please mark the V Young Researchers Meeting on your calendars, stay tuned and join us on this (hopefully) in person meeting that will be held in Santiago de Compostela.
We are looking forward to having you with us!